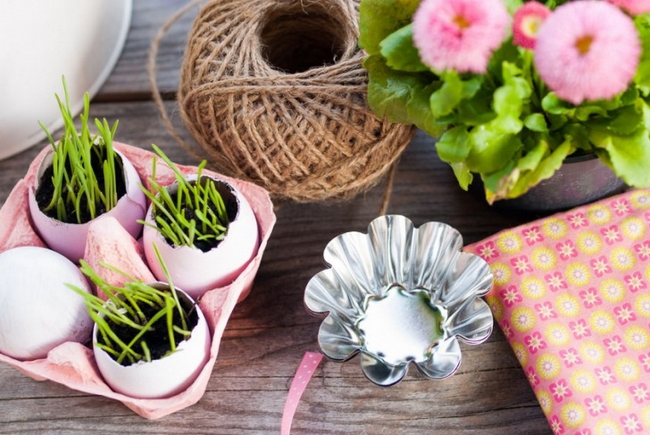 Easter
10 Easter table decorations, easy crafts and DIY Easter treat bags
If you are wondering how to decorate your table for the Easter brunch, a garden party or the annual egg hunt party, then you are at the right place. We have gathered for you several table settings and decorations that feature vibrant colors, Easter bunnies, eggs and spring flowers. These do-it-yourself Easter table decorations are irresistible and will dress up any holiday table.
Easter table decorations – Creative ideas for the spring holiday
Soft pink shades
Easter table decorations – Lilac and baby blue colors
DIY Easter table decorations – Make original flower centerpieces
12 DIY Spring & Easter home decorating ideas – Simple yet creative
10 Easter table decorations, easy crafts and DIY Easter treat bags
Red, pink and blues
Bring some fun to the table by making cute Easter treat bags for your guests. Especially the little ones. These small Easter gifts are crafted in seconds. Let's see how.
We need:
• harder patterned paper
• tissue or any other soft paper,
• decorative ribbon,
• glue and scissors.
Choose the color of the paper to match the color of the candy and the table setting. These bright pastel colors perfect for the spring holiday. First, make a template for the paper cornets. Draw a circle with a diameter of about 22 cm and divide it into 4 parts. Cut out the template but add 1-2 cm to the edge where we will apply the glue. Cut out a rectangle of the tissue paper – about 22 cm x 11 cm. Glue the tissue paper on the inner side of the cornet. The paper should be slightly crimped. Close and glue both edges of the dotty paper. Fill the cornet with little surprises and tie with a decorative ribbon.
Carrot-shaped treat bags for kids
• green and orange paper
• template for the package
• scissors,
• glue,
• decorations for the box ( ribbons or felt and wool to make the leaves)
Download the template, print it on an orange paper and cut out. Fold along the dotted lines. Assemble the box and glue the two sides. Here you got a little carrot-shaped gift box. Now you just need to fill it and close it. Make two holes on the top and decorate with felt leaves. You can place a  name card or tie a pretty bow on top of the gift bag.
Easter sewing crafts – How to sew a bunny sachet and a bunny treat bag
DIY Easter table decorations – Make original flower centerpieces
DIY Easter gift idea – Turning an egg in an incredible gift package
Make a cute Easter bunny basket for kids from an empty plastic bottle