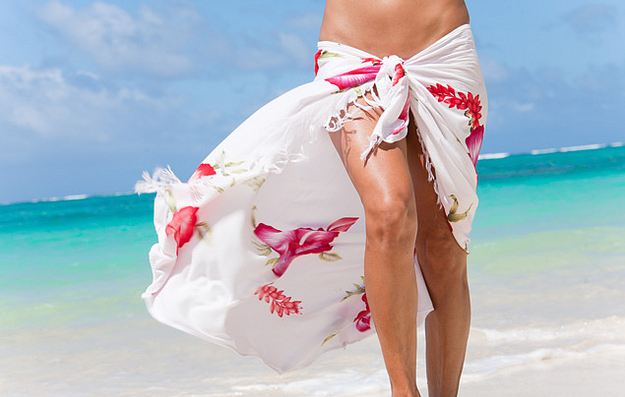 DIY Fashion
6 different ways to tie a sarong dress and pareo skirt for the beach
The sarong or pareo, born in the tropical countries, has come to us not so long ago, but now it's difficult to imagine our summer without it…Among the advantages of the pareo, of course, its versatility is that turns it from a simple scarf into a real beach wear, depending on how you tie a sarong dress. The sarong dress also provides valuable assistance to those who want to hide the flaws of their body and pay attention to their merits. This popular, bright, stylish and practical beach accessory always attracts a lot of attention at the beach. For the beach vacation, let's learn some of the stylish ways how to tie and wear a pareo.
1. Skirt
Perhaps the easiest and most common way to tie a pareo is the skirt. Put it on your hips, connect the two ends together, make a knot and you're done! Comfortable and always efficient.
2. Tie a sarong dress
This classic way to tie a pareo turns it into an elegant beach dress. Wrap it around the back and place both ends in the center of the chest, twist, cross and slide the head, tie a bow around the neck.
3. Strapless
Another easy option to wear a sarong dress. You can tie the ends of the pareo behind your back, if the length allows or in front of the chest, if the pareo isn't long enough.
4. Tie a sarong dress over the shoulder
You can wear sarongs on the beach and more refined by tying maxi pareo on one shoulder. Hold the one end of the pareo on the left shoulder (the pareo should be bigger than usual), pull the right corner under the arm, passing through the back and forward. Wrap it around the body and tie the ends over the left shoulder. Such an asymmetric effect looks pretty interesting.
5. Shorts
If you want to highlight your tanned legs or to feel more comfortable, you can turn your pareo into a skirt-shorts. Tie the two ends behind the back and pass to back between the legs. Then tie the ends on the front.
6. For a short pareo
A very simple way to tie a pareo on the chest. This option is ideal for a short pair. Hang the pareo on the neck, align the ends, and place on the chest. Set up the ends on the back and tie all four ends of the pair. And voila! You are ready for the beach.
 DIY summer project – Bag unwraps into beach towel blanket with pillow
  15 DIY flip flop ideas – How to decorate your summer sandals
10 DIY flip flop projects – How to embellish your sandals with beads