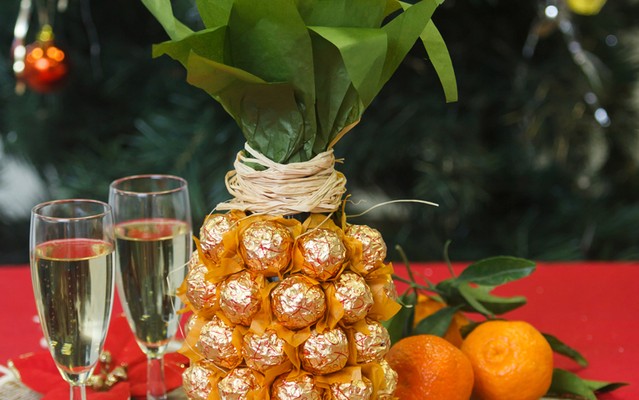 DIY Gifts
Creative gift wrap ideas- Disguising a champagne bottle like a pineapple
There is a tradition to give on New Year's Eve a box of chocolates and a bottle of sparkling wine to the host. But it would be definitely more fun to present this gift with one of these creative gift wrap ideas. If you decorate the bottle like a pineapple with chocolates, then the success of the gift would be undeniable. The bottle will be also an original and fun decor for the holiday table. And the candy – a reward for the well-behaved kids.
Materials
2 sheets orange tissue paper
1 sheet green tissue paper
1 bottle of champagne
48 pcs chocolates in golden wrapper like Ferrero Rocher
raffia ribbon
hot glue gun
The tissue paper is very thin and translucent. It is sold in art supply stores and on the gift wrapping racks.
Raffia ribbon is made of long fibers of the raffia palm leaves. They are widely used in floral design, arts and crafts.
Creative gift wrap ideas for champagne and chocolates – How to do it
1. Cut the orange tissue paper into squares 7 x 7 cm. Then apply hot glue on the flat side of each candy and glue it to the center of the squares of paper.
2. Fold the edges of the paper to the top of the candy. Apply glue to the flat side again and stick to the bottle. Start from the bottom up in a circle. Glue the candy tightly to each other, so that there aren't any gaps.
3. Cut long narrow leaves from the green tissue paper. Glue them together, making several layers. Paste over the neck of the bottle in a circle.
4. The pineapple of chocolates will be more similar to a present, if you wrap the raffia ribbon around the neck of the bottle. You can improvise by making a big ribbon or add some lady bugs. And voila! The perfect gift wrapping idea for chocolates and sweets.
Creative gift wrap ideas for wine and chocolates